Installation Instructions
Installation Instructional Video at Bottom of Page
NOTE:
Before removing the protective hinge backing from any of the hinges, perform a simple test to ensure that your condenser fan motor will easily lift your Kool Kap to its full 85 degree position. Perform this test by holding one or more of the hinges in place with your fingers and verify that the fan motor will lift your Kool Kap from a flat position to a fully upright position.
When mounting Kool Kap to your condensing unit the outdoor temperature must be ABOVE 50°F. If the outdoor temperature is below 50ºF you must first warm the surface of the condensing unit where the three hinges will be placed. Use a standard hairdryer; making sure the surface of the condenser is warm/hot to the touch. The adhesive backing on the hinges is very strong, work carefully in positioning each hinge, as you will not get a second chance to reposition the hinge.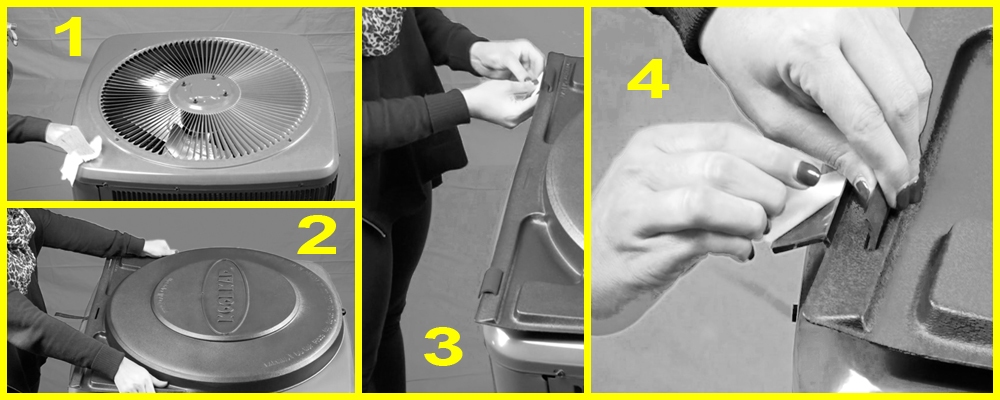 Positioning And Attaching
Clean and dry the top surface of condensing unit using a cleaner designed to cut grease and oil. Pay special attention to cleaning the area where the hinges will be attached. This will ensure permanent adhesion.
Position the Kool Kap squarely on condensing unit, making sure the top fan grill opening will be fully covered by the Kool Kap.
Position the three hinges so that they align with the three slots in the Kool Kap. Be sure that the location of the hinges allows for complete contact with the condensing unit.
Under no circumstances should you ever use screws to affix the hinges.
Beginning with the middle hinge, remove the backing from the tape and carefully reposition the hinge for permanent mounting. Once positioned, press firmly on the hinge for best adhesion.
If your condensing unit is older or if the exterior paint shows signs of oxidation or corrosion the acrylic tape on the hinges may not have a good surface to adhere to. If this is the case you may want to use a single 1/2-inch sheet metal screw on each hinge to insure permanent adhesion. Be careful to insure that the screw does not interfere with the fan blade which is located on the underside of the condenser top.
Repeat this process for the left and right hinge making sure the Kool Kap does not move.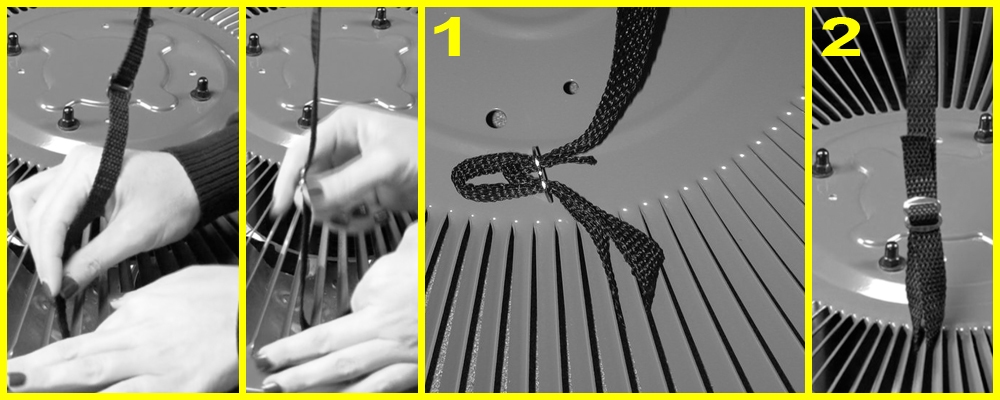 Attaching The Strap
Feed the end of the strap under and around the inner rung of the fan grill. Loop the strap back through the inside of the buckle so the strap is attached to the grill.
Adjust the strap length by sliding the buckle up and down so the Kool Kap opens completely to an 85° angle.
Turn on the system and verify the operation of the Kool Kap.